04-08-2017
March to March!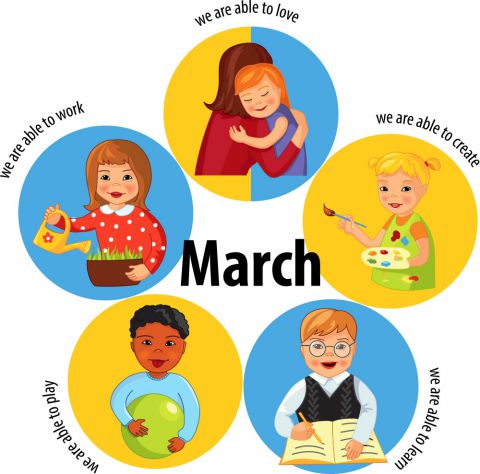 Cheers to cheerleaders! We began March with lotsa noise for our teams! Flowers, bees and rainbows filled our classrooms too! And then we met a "Doctor" who wrote books and made a lot of drawings too..Dr. Seuss! From "Cat in the Hat" to "Footbook" to " One Fish, Two Fish, Red and Blue Fish"- oh yes, we "read" across America and across all of Dr. Seuss! but that's not the end of it- we made our own green eggs and ate it too! They're not quite as yummy as Oreos on Oreo day, nor our crunchy cereals on Cereals day..but that's ok!
St. Patricks brought in rainbows, gold coins, leprechauns, shamrocks and parties of course! To all our friends who love us so, may all your blessings grow!
The Indian Holi Festival of Lights had Ms. Neha and a couple of other Indian moms come over dressed in their finest..looking like princesses! And after Ms. Dominika did colorful paintings on our faces, we were ready to go!
Spring brings the frogs out, so we made our frog crafts and made our own butter too...and  though it took a lot of shaking to make it, it was really worth it!
March found us graduating  from our Music and Movement class with Ms. Universe - and we all dressed  in our finest gowns and tux for our grand Spring Ball! We waltzed and had our own version of "Beauty and the Beast"... a really magical time!
And not to forget that one day we had our moms and dads come over to learn how to "Save Money Wisely"-we guess it was to make sure we go to college too!
We didn't  miss our dear Crossing Guard's birthday too- and so we greeted Ms. Margaret and brought her a little present too!
Before we said goodbye to March, we danced and sang to "Man in the Mirror" ..."if you wanna make the world a better place take a look at yourself and make that change", said Michael Jackson...
"Ms. Universe " (Ms. Maria) says that's a good place to start.. here at Goldilocks!